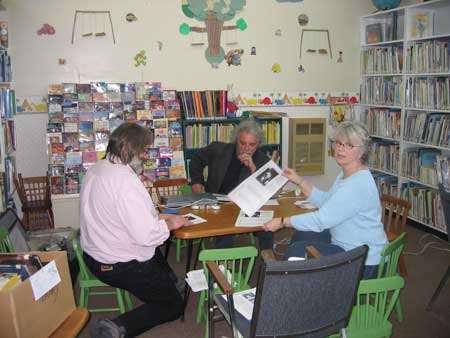 Click on the photo of Ivan, Fred and Maire working on the Benito Broadcast-Herald to go to Newspaper-in-a-Box hyperlinks.

Newspaper-in-a-Box is a communication tool which promotes the capacity of groups and communities to analyze and describe themselves and their activities.

In computer software terms, it would relate to desktop publishing software - but with additional socio-technical capabilities.

Why not just use computer software in the 21st century? One person producing a newsletter alone on a computer is not the same as a group gathering together to communicate.

Newspaper-in-a-Box is a newsletter production community media tool for unskilled, community volunteers.

It is a kit for newsletter production, or specifically a kit for producing newsletters that look like newspapers.

Newspaper-in-a-Box is a community media tool in support of community development. Although it was originally designed 15 years ago when there were not many computers in rural Canada, it is also true that much of the technology we take for granted is often not available in developing countries. The kit is a communication tool designed to be of use with various technologies. It is itself a flexible technology.

The kit has been used to produce newsletters in Canada, the Caribbean and Central America. Even after 15 years, it still is a valid communication tool.

Some of the people who have used Newspaper-in-a-Box include the community of Benito, Manitoba; the Ramea Economic Development Corporation; Community Studies students at the College of the North Atlantic; Gander Women's Centre; BAY TV (a volunteer community television group in Placentia); Youth for Social Justice groups in Newfoundland and Nova Scotia; the National Youth Council of St. Vincent and the Grenadines; the Caribbean Federation of Youth, and the Garifuna (an indigenous group in Belize, Central America).

A note about the patent - Ryakuga develops communication tools and we have been ripped off a few times over the years. However, the purpose of the patent is not to restrict the use of the kit but rather to legitimize a grassroots, participatory community media process and have it officially recognized. As you can see from this website, Ryakuga freely distributes information on how to use this communication tool - our fees are for materials and facilitation.