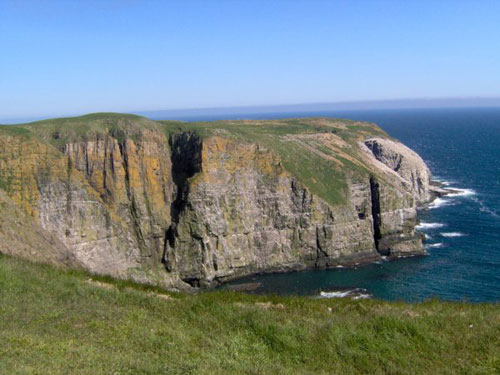 Tramore Productions hosted a community radio special event
in Cuslett from November 21 to 25, 2011.

Click here to see photos from the event.

November 25, 5 pm: Thanks to everybody who participated in Cape Shore Radio
from Cuslett. Geraldine joined us on air today and Carol Ann sang.
Fatima Academy joined us for the third day and we had a call from Taiwan.

November 24, 2 pm: We walked through the snow and started the broadcast with Arlene
plying songs by Francis Morrissey of Cuslett. Then basketball player
Carl English called from Spain to talk to his mother-in-law,
Vicki and Arlene. The Arlene interviewed Doreen Coffey
. And... we are waiting for Tony Power to come and tell us ghost stories.

1 pm: It's Snow Day on the Cape Shore.
One of the two plows broke down this morning.
Cape Shore Radio will resume, weather permitting, on Friday.
Meanwhile the webcast of recorded music continues.
Even though we had two power outages during the night.
Remember to please post to our Facebook and/or Twitter.

November 23, 8:30 am:

Wednesday:

Tonight Tramore Productions will host a turkey dinner at 6 pm
followed by a play "Answer Me Home" and the great Harbour Deep
dance "Running the Goat".

Much of the day will be spend preparing for the event.

Lorna will be back with Local Songs from Branch at 9 am.

At 11 pm Fatima Academy Grades 10, 11 and 12 will bring you a music program.

At 5:30 an interview with Felix Collins is scheduled.

Of course, this is community radio and much of the programming is
spontaneous. For example, on Tuesday afternoon Angnes Walsh
and Mildred produced a fine unscheduled program on Tramore.

November 22, 9 am:

Tuesday schedule

11 to 11:45 am - Fatima Academy - Grade 7

1:30 pm - Fatima Academy - Grades 4, 5 and 6

3 pm - Panel discussion of community radio with Robert Colbourne, Arlene Morrissey, Agnes Walsh and Fred Campbell

Today is also a rehearsal for the play to be aired on Wednesday night - Answer Me Home

November 21, 10 pm: We will be on air each day this week
from 9 am to 4 pm. The webcast will be "24/7".

Mallory McGrath reports she was able to pick up the signal
in her car from Angels Cove to the Cape St. Mary's turnoff.

We found the signal "scratchy" at the bottom of the hill
in St. Bride's but fine in the library parking lot.
We also picked it up a certain places on the road to Branch.

The webcast is working fine on dial up.
We did a bit of trouble shooting with people having problems.
The solution was to restore to QuickTime the ability
to play MP4 files.
A dialogue box came on screen when we entered the RTSP URL (see below).

Our Cape Shore Radio participants this week are Mildred Dohey; Victoria
Dohey; Lorna English; Margaret Foley; Vina Murphy; Dolores O'Keefe;
Carol Ann Power; Geraldine Power; Jannis Power, and Vincent Walsh.

Monday programming included Local Songs from Branch with Lorna and Mildred;
Arlene Morrissey's interview with cranberry farmer Reggie Careen;
Lorna's interview with sheep farmer Dermot Power;
Alice O'Keefe's Irish Country Music, and a program on Mary Power
with Arlene and Mary's daughter-in-law, Jannis Power.

November 20, 3 pm: We are setting up in the Cuslett Community Centre
and the webcast is underway.

The Tramore project is called
Creating Opportunities in Cultural Arts/Community Enhancement & Community Radio Communications.

We will be broadcasting at 95.1 Stereo FM and simultaneously webcasting.

Tramore Productions is a not for profit community arts organization
whose mandate is dedicated to preserving the unique cultural heritage of the Cape Shore
and Placentia Bay areas of the province.

It is based in the Cuslett Community Centre, on the Cape Shore south of Placentia.
Over the past twelve years it has presented a series of dramatic performances
to enthusiastic acclaim from local residents and from visitors. Tramore Productions is a unique community arts group in that it draws upon
the local cultural heritage of the region in its various performances
and also contributes to the vitality of the local community through the active involvement of local people
as actors, singers, and storytellers and through the enthusiastic support of residents.
In doing so it is contributes to the building of local social capital that is essential for community well-being.

Community Radio Communications workshops will be conducted by Ryakuga Communications.
It will offer the participants the opportunities to learn about community radio
and with assistance from Tramore Productions staff will operate a pilot community radio station
out of the Cuslett Community Arts Center .

This will provide employment and create new opportunities for the participants
to be involved in media communication by collecting material, participating in interviews,
telling stories, on air plays adapted for radio, etc. Particular attention will be paid
to emphasizing the involvement of participants in the oral history collections of program content.
Examples of publicity will range from posters and leaflets to newspaper interviews and reports to presentations to interested groups.

You can contact Arlene Morrissey:
morrisseyarlene@hotmail.com

On Facebook, search for the Cape Shore Community Radio group;
anyone can join.






Photo by Tramore Productions.

Cape Shore Lady by Joy Norman.

All music, graphics and information are
copyright of the respective authors.